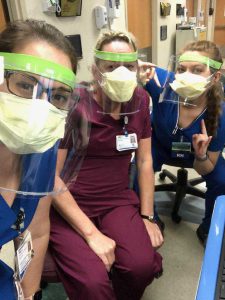 The COVID-19 pandemic has rapidly increased in severity over the past few days and weeks. Projections
indicate that the crisis will continue over the upcoming weeks and months. The healthcare professionals in our community face growing shortages of personal protective equipment (PPE). This PPE is essential for ensuring a safe working environment for those individuals who are working tirelessly to protect our community.
Understanding the increased need for PPE right now, we have refocused our manufacturing capability on the design and production of PPE. As of today, the first batch of face shields has been delivered to the employees of Medstar St. Mary's Hospital. Efforts are underway to increase the production of these face shields, as well as explore additional ways where our engineering experience can benefit the community.
Additional help is always appreciated. Resources in the form of material, funding to buy materials, or labor will help in further design, manufacture and distribution of these face shields. All contributions will go to medical facilities and emergency organizations. If you have any questions, or are willing/able to help, please contact us at info@growingstems.org